"There are 21,000 fewer pubs in the UK today than in 1980, and the Campaign for Real Ale (CAMRA) estimate there are 14 pubs closing every week. Fewer than 1 in 10 visits to a pub are now drink-only occasions. This means you should think about what you're offering food-wise, how you're drawing in locals and tourists, and what unique experience your pub provide" ~ The Morning Advertiser 2019
COVID-19 [Message & Offer]
We are taking robust measures to ensure the wellbeing of our team during the global outbreak of Coronavirus (COVID- 19). We hope you are well and keeping safe too. We feel sure that you will be receiving lots of advice and guidance from your colleagues, professional bodies and the government, so we are not going to complicate things by adding our guidance on this site, especially as the situation is ever changing.
However, we strongly believe now is a great time to review your food offer, and plan for re-opening in due course. When you do re-open again, there's going to be lots of competition targeting customers in your area, additionally your regulars have now fallen out of the habit of visiting and may need tempting back, so we strongly suggest any spare time you have now, is used to review your pub food offer and re-launch plans, so you are guaranteed the best possible re-start to your business.
"SAVE OUR PUBS" Offer (*Ends 30th September 2020) Don't miss out!
Given the desperate situation many publicans, families and staff find themselves in right now, we have taken the decision to all but give away our best training. Get access to Knowledge, tools and resources that will help you significantly strengthen your capabilities to survive and prosper during this difficult period. Ignore the normal pricing information on this website and go straight to the purchase page(s) to take advantage of this SAVE OUR PUBS / COVID-19 Publican Support program pricing.
*Please do it NOW...before your competitors find this offer and before it runs out! (Limited availability)
If you have questions, contact us at [email protected]
Stay safe!
"In a tough economy, you can't afford to be an average performer. If you provide excellence in a world where excellence is rare, your success will skyrocket"
Lee Cockerell, former Exec VP of Walt Disney World - *Contributor to Chapter 6
Take a Peek Inside
Let's take you on a quick tour to have a look at just some of the profit-boosting information that's waiting for you inside...
WHO is this for? 
It's not for everyone! This brand-new training course for 2020 is designed for Non-Managed Pub Operators, Owners, Leaseholders, Tenants, and Landlords, its essential for those considering entering the pub business for the first time.
WHY do non-managed pub operators need this support? 
1. Pub food is growing as a percentage (%) of the total UK pub sales mix and is forecast to continue growing. 
2. Managed house brands are increasing their share of the pub food eating out market. 
3. Many non-managed pubs are struggling to compete with managed house brands. 
4. Circa 40% of pub income in the UK is now from food sales, with managed-house operators reporting 60% plus of total pub income is now driven by customers whose main reason for visiting is to eat.  
WHO's behind this? 
Tony Aram - Independent Pub Food Development Trainer & Adviser. (former: Catering Director for Hungry Horse, Catering Strategy Manager for Whitbread, Food Strategy Manager for Ei Group, and Food Operations Manager for Tom Cobleigh)
Marcus Kilvington - Food Profitability, Sales & Marketing Specialist. (former: National Account Manager, Senior Sales trainer & Trade Sector Manager for Global & British brands; Knorr, Hellmann's, Tetley, Twinings, Hall & Woodhouse, Rubicon Drinks)
WHAT is it about?
Foreword: 
'The Food Profit Formula for Pubs' consists of 7 chapters. Specifically designed this way allows you to choose whether to cover all 7 chapters or pick individual ones that you feel to be the most important right now and move on to another chapter later.
WHICH chapters are right for me?
Here's what we recommend...
New publican (you're taking on your first pub with a dream to achieve) - This is the gold-standard for "Pre-entry" Pub Food Training when you choose to complete all 7 chapters. You'll have your compelling and profitable food offer up and running correctly in the fastest possible time and on your way to magnetically attracting loyal customers and repeat business into your pub. You can work through the chapters at your own pace and at times that are most convenient for you. This training has been proven to help new publicans avoid making mistakes that lead to many pubs struggling to survive. This course guides you through the whole process and makes your future success much more certain.
Experienced Publican (you're an experienced publican with a problem or an aspiration) - With your single most pressing problem or aspiration in mind, choose one of the 7 chapters that you feel is most relevant to helping you fix that problem or achieve your desire. Once you've found success, you might want to choose another chapter as you find new confidence and capability from these trainings.
Course Chapters:
Chapter 1 [Food Proposition] – Shows you how to build a compelling and profitable food proposition
Chapter 2 [Commercials] – Shows you how to effectively control food costs and optimise menu prices for maximum gross profit
Chapter 3 [Quality] – Shows you how to deliver quality food presentation to a standard that will exceed expectation
Chapter 4 [Menu] – Shows you how to design a profitable menu that appeals to your specific customer audience
Chapter 5 [Pub Standards] – Shows you how to set appropriate pub standards that will exceed customer expectations
Chapter 6 [Teamwork] – Shows you how to develop highly productive employees who will deliver your goals
Chapter 7 [Marketing & Sales] – Shows you how to effectively market your pub at low cost to drive more sales
WHAT makes this different? 
The easy to follow and implement Food Profit Formula Course has been designed by UK industry recognised pub food specialists and business advisers around a fool-proof framework of the most effective trading improvements. It is the culmination of 30 plus years of unique industry insights and is definitively supported by market data and proven business cases.  
WHAT's the benefit? 
 Your pub food and associated drink sales will be fully optimised to maximise profitability
WHAT is the Pub Trade itself saying?
"There are 21,000 fewer pubs in the UK today than in 1980, and the Campaign for Real Ale (CAMRA) estimate there are 14 pubs closing every week. Fewer than 1 in 10 visits to a pub are now drink-only occasions. This means you should think about what you're offering food-wise, how you're drawing in locals and tourists, and what unique experience your pub provide" ~ The Morning Advertiser 2019
The Morning Advertiser is the Pub industy's most respected publication, founded and first published in 1794 by the London Society of Licensed Victuallers, it is the UK's oldest continuously produced paper
"Once we understood the process and got started, it all fell into place. I wish somebody had bloody well taught us this before. We could be on a beach in the Caribbean now"
- Pete & Julie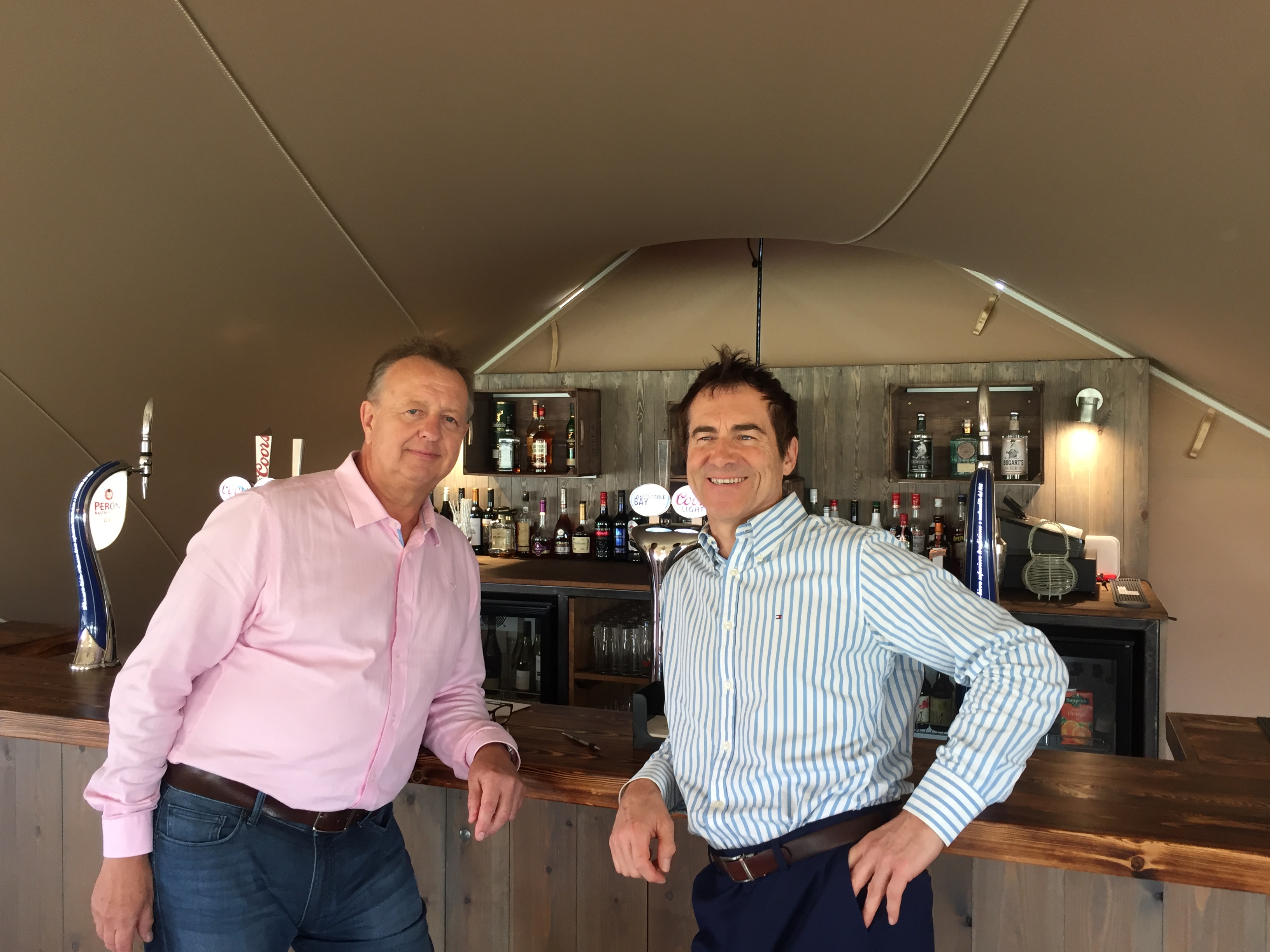 Your Tutors:
Tony Aram & Marcus kilvington
We've both worked in the food and beverage industry for more than 30 years each. Over that time we've collected a wealth of knowledge and experience of WHY the vast majority of publicans struggle or fail, but also more importantly - WHAT the minority (highly profitable) pubs are doing differently, that sets them apart from the rest and...how you can be one of those too.
Tony Aram - Independent Pub Food Development Trainer & Adviser.
Marcus Kilvington - Food Profitability, Sales & Marketing Specialist.
Join Us Today
"It is our decisions, good or bad that determines our future. When you invest in yourself, you invest in your future"
Make the decision to join us today.
If you're a New Publican taking on your very first pub, this course (Chapters 1 to 7 inclusive) will give you everything you need to get started and establish a profitable food offer quickly.
If you're an Established Publican with a few problems or niggles that you want to fix, just pick the most relevant chapter that you feel best deals with the problem you're currently facing
KNOW YOU'RE DOING IT RIGHT: Get Clarity & Inspiration
CLICK the button where you see 'View the 7 Chapters' in the picture below >
One of our Founding Principles
...comes from Charlie Munger (Warren Buffet's business partner) who advocates:
"The best thing a human being can do is to help another human being Know More" 
Having the right knowledge to develop the right skills, equips you to being able to DO more to HAVE more. 
By having more, you'll be able to pass it forward to help others. That maybe your family, your employees and their families or it could be a homeless person or anyone else that needs a leg-up to a better life. It all begin's with you. Now is your time and your opportunity. Take it!